Now Available: ARRIS SURFboard mAX Pro and Plus Mesh Wi-Fi 6 System
Our ARRIS SURFboard mAX™ Pro and Plus Mesh Wi-Fi® 6 System drops today. And it's one of the most exciting things to happen to Wi-Fi in years.
If you're looking for the best way to upgrade your home network, look no further. If you want to speed up everything you do online today and be ready for tomorrow's 8K AR/VR streaming experiences, it's got you covered.
SURFboard mAX is the best Wi-Fi system you can buy.
Here's why: It's the only true tri-band Wi-Fi 6 mesh system on the market. That makes it the fastest, furthest-reaching, and most reliable system available.
That's a lot of technology, so let's talk about each one…
Wi-Fi 6: Also known as 802.11ax, and currently the fastest Wi-Fi technology available today. It is up to four times faster than the previous Wi-Fi 5 (802.11ac) standard and better supports modern homes with lots of active devices. It provides up to four times better range for the fast-growing Wi-Fi IoT devices and overall better battery life in smart phone Wi-Fi usage as well as battery-based Wi-Fi IoT devices.
Tri-Band: Up to now, consumers have typically used two bands to connect to Wi-Fi: 2.4Ghz and 5Ghz. Tri-band adds another 5Ghz band to connect the routers in a system. In dual-band systems, the antennas must take time off from talking with your devices to allow the routers to talk with each other. With the SURFboard mAX tri-band system, the dedicated third band makes your Whole-Home Wi-Fi faster, more reliable and with a better range.
Mesh: An advanced networking technology that allows the Wi-Fi Access Points in a system to constantly improve the way they deliver your Wi-Fi. In the case of the SURFboard mAX, the mesh solution gets even simpler because of the power of Wi-Fi 6 and tri-band. Using just two mAX devices, the mesh essentially forms a multi-Gigabit wireless backbone in the home allowing you to have Gigabit speeds across even the largest homes with just two devices. This significantly improves the user experience over other meshing solutions that rely on adding lots of smaller less powerful Wi-Fi devices. This use of Wi-Fi 6 for all three bands in a mesh configuration is what makes SURFboard mAX faster and more effective. In short, it provides your devices with the fastest, most efficient path to the Internet.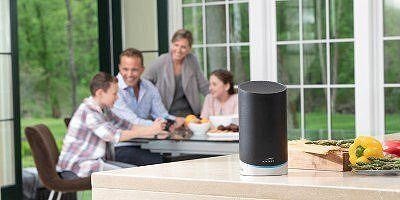 Want the best? This is it.
We offer SURFboard mAX in two flavors: SURFboard mAX Pro and SURFboard mAX Plus. mAX Pro delivers 12 streams for a combined system speed of 11Gbps, and mAX Plus features 8 streams to deliver speeds of up to 7.8Gbps.
Each is available as a system and as a standalone router. You can start with a single SURFboard mAX router, and add more as you go, or start with a system. We leave it up to you and what works best with your home.
SURFboard mAX also comes with secure and easy-to-use iOS and Android apps to manage your Wi-Fi network, and features Alexa skills compatibility for voice control of router functions.
SURFboard mAX Pro is available at Best Buy on July 21st. SURFboard mAX Plus is available for pre-order today on Amazon and in select Walmart stores.
For specs and other information on SURFboard mAX, visit SURFboard.com. For videos, view Surfboard mAX videos here.