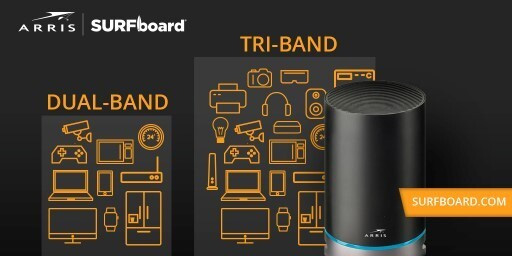 Dual-band uses two bands to connect devices to the internet: 2.4Ghz and 5Ghz. You likely already use both and enjoy the speed advantages that 5Ghz offers. However, tri-band adds another 5Ghz band to this equation, so you now have two separate 5Ghz bands.
So, what does that do for you? For starters, it lets you connect more devices to the internet using the faster 5Ghz band. And secondly, if you're using a mesh system with multiple routers—to cover a larger space, for example—the second 5Ghz band acts as a dedicated communications line between the two routers to speed up the entire system by as much as 180% over dual-band configurations.
If you have Gigabit service or are planning to get Gigabit service, buying a tri-band router is a must. Tri-band is the best way to future-proof your investment and make sure you get all the speed you pay for, everywhere in your home, for all your devices.
And when you're out there shopping around for tri-band Wi-Fi 6 routers, be sure to check that they're actually true W-Fi 6 tri-band devices. That is, that they deliver Wi-Fi 6 on all three bands.
In the race to deliver tri-band Wi-Fi 6 routers to the market, some manufacturers cut corners and put older Wi-Fi 5 or 802.11n technology on some of the bands, so their devices don't deliver the full advantages or speeds that the technologies promise.
That's certainly not the case with the new ARRIS SURFboard mAX™ Pro Mesh Wi-Fi System. It's not only the world's first tri-band mesh system, but it features Wi-Fi 6 on all three bands—for the most powerful Wi-Fi available today. The SURFboard mAX Pro System combines ARRIS's leadership in home gateways with Wi-Fi 6 and tri-band technology to deliver the fastest speeds, across your entire home, for years to come.