Free yourself from wires and win the day!
Wired performance without the wires
Wired speeds without the hassle of running wires.
Faster, stronger, more reliable Wi-Fi® for your gaming
experience with speeds up to 4.8 Gbps.
Eliminates Wi-Fi congestion
By using the dedicated 6 GHz band directly between your Wi-Fi router and your gaming console, interference from other devices on your network is virtually eliminated.
Low Latency Wi-Fi
No more fear of lagging or disconnecting from your game. Low latency Wi-Fi 6E provides the stability of a wired connection with the convenience of Wi-Fi.
Simple setup, simple to use
Simply connect one of your SURFboard® Thruster Gaming Bridges to your existing Wi-Fi router and the other to your gaming console and you'll be gaming smoothly in minutes.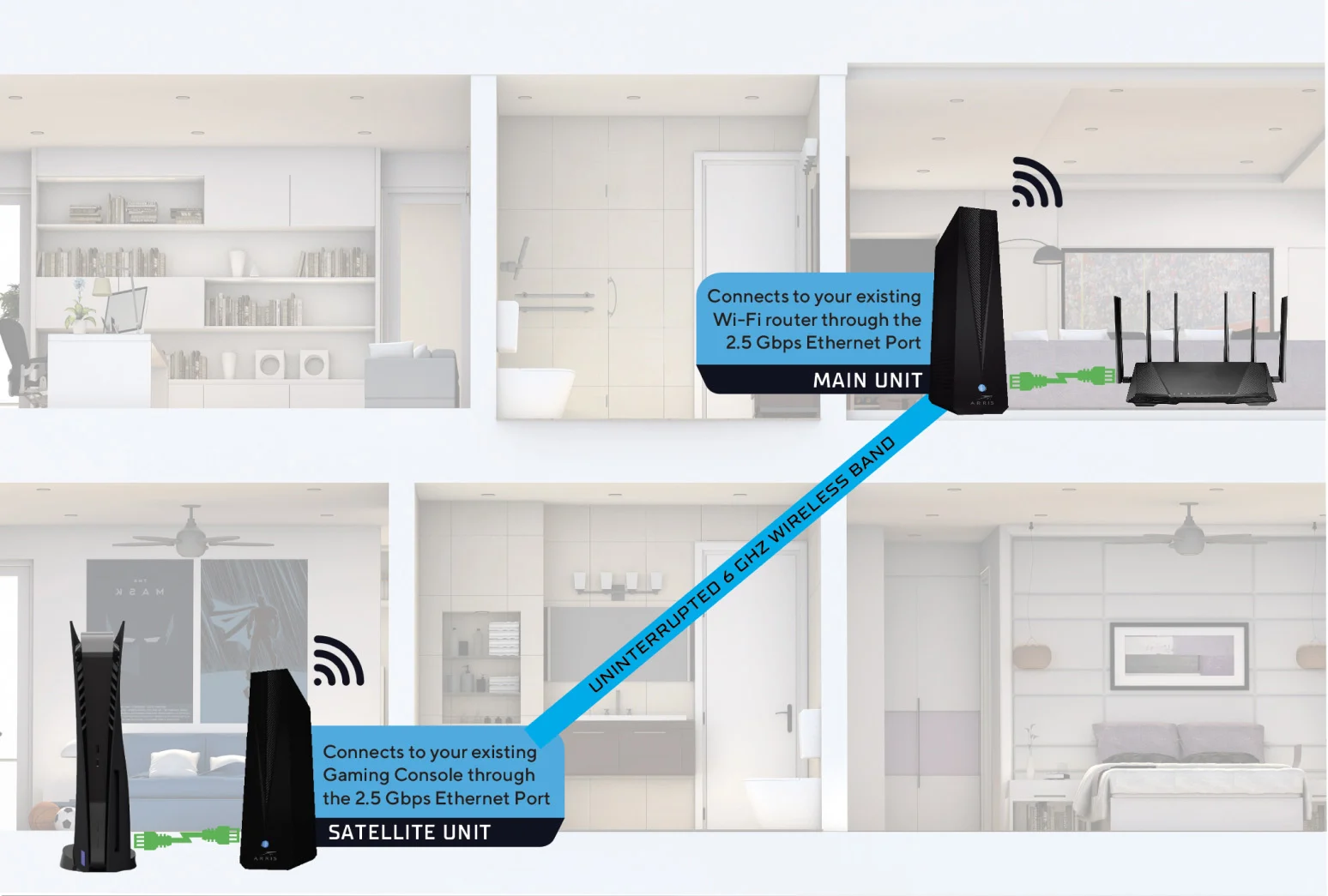 Features
A 6GHz band dedicated to gaming devices means no more slow-downs or disconnections
Provides the speed and reliability of Ethernet without the hassle of running wires
Outperform the competition thanks to a dedicated 6 GHz connection
Pre-paired kit makes setup quick and easy
2.5 Gbps Ethernet port ensures there are no bottlenecks, enabling multi-Gigabit speeds
Connects to any existing router or gateway
SUPPORT
Technical Specs
| | |
| --- | --- |
| | Compatible with all Internet Service Providers |
| | Connect to your existing gateway, router or mesh system |
| | Mobile App requirement: |
| | – iOS 9.0 and above |
| | – Android™ 5.0 and above |
| | Quad core ARM Cortex A53 processor (each device) |
| | Eight (4 per unit) Wi-Fi 6E streams delivering speeds of 4,800 Mbps (AX4800) |
| | Wi-Fi 6E compatible with 802.11ax devices capable of 6GHz operation |
| | 2 Adapters included |
| Wi-Fi Coverage | Up to 1,800 sq ft |
| Wi-Fi Coverage | Up to 2,200 sq ft |
| Wi-Fi Coverage | Up to 2,500 sq ft |
| Wi-Fi Coverage | Up to 2,800 sq ft |
| Wi-Fi Coverage | Up to 3,000 sq ft |
| Wi-Fi Coverage | Up to 5,550 sq ft |
| Wi-Fi Coverage | Up to 6,000 sq ft |
Compatible Service Providers
Advanced Stream
Altice Optimum
Altice Suddenlink
Armstrong
Atlantic Broadband
CableOne/Sparklight
Click CableTV
Comcast/Xfinity
Cox
Grande Communications
New Wave/Sparklight
Mediacom
Midcontinent Communications
Pentele Data
RCN
Service Electric
Spectrum
Wave Broadband
WOW
Zito Media