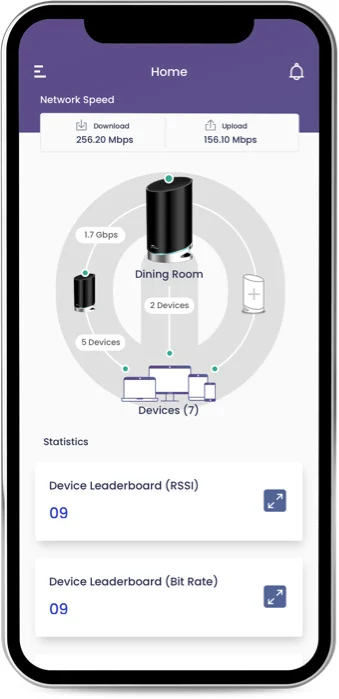 When you encounter issues with your home Wi-Fi, do you know what to do? Is the problem with your service provider, router or the Wi-Fi devices themselves? So, as with all your electronic devices, you restart the router or modem, but still have problems. What do you do now?
With the launch of the ARRIS SURFboard Central app, CommScope is improving the ways you manage, troubleshoot and optimize your home network. Formerly known as the SURFboard mAX Manager, the SURFboard Central app has enhanced services and features that allow you to control your network no matter where you are.
CLICK TO TWEET: Do you want to manage and optimize your Wi-Fi? Ronen Stern explains how you can do so by using the ARRIS SURFboard Central app.
With a single dashboard providing you with vital statistics and event notifications, you can easily understand and identify your trouble areas. Behind the scenes, the CommScope system is working to self-heal and optimize your experience; however, there are cases where manual intervention is required. Armed with insight to your home Wi-Fi network, and having the ability to automatically and manually adjust your system, you are in complete control of optimizing your experience.
Manage Your Wi-Fi
By using the SURFboard Central app, you can set up and customize your home network with ease. You can run a speed test to check your network's performance and track all the devices connected to it. You can monitor how much bandwidth each device is using and their signal strength. The app also allows you to setup or disable a guest network with one simple click.
Troubleshoot Your Wi-Fi
The app provides you with real-time updates about potential problem areas in your home Wi-Fi network and the devices connected to it. With the SURFboard Central App, you can get insight into your network settings that are easy to understand. The app helps you understand the inner workings of your home Wi-Fi network including topology, connected devices, and your environment.
Optimize Your Wi-Fi
The SURFboard solution is working continuously to optimize your connectivity experience—adjusting to Wi-Fi interference (i.e., your neighbor's router), tracking changes to the location of your devices within the home (i.e., moving your tablet from one room to another), and the data usage based on your family's browsing and streaming needs.
The app provides our SURFboard mAX Pro and Plus users with a digital dashboard to manage their connected home's Wi-Fi services. It will be made available for all existing and future SURFboard products later this year.
If you want better management and optimization of your home Wi-Fi network, then it's time you downloaded the SURFboard Central app today.