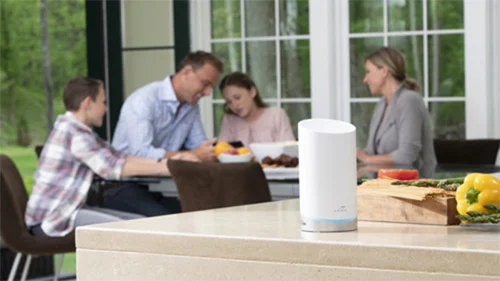 Folks have figured out that when one corner of the house is the office, another is the classroom, and the other is the home theater, mediocre Wi-Fi connectivity is simply not an option. Wi-Fi is now so vital to our daily lives. That's why many customers upgrading their network today are opting for mesh networking technology, for whole home wireless coverage.
Mesh Wi-Fi networks enable customers to get a quality connection no matter where they are in the house. Some of these new routers even look great and are easy to use; however, many users are discovering that they're not getting the speeds they're paying for. What's the point of paying for the best available service plans if the only way to get those speeds is to connect a laptop to the router? Because connectivity and faster speeds are more important than ever CommScope is expanding its ARRIS SURFboard mAX Whole Home Mesh product line.
Introduced during the 2020 Consumers Electronics Show, the tri-band SURFboard mAX AX6600 delivers speeds and range powered by Wi-Fi 6. The SURFboard mAX is a performance mesh solution that complements our flagship SURFboard mAX Pro AX11000 and SURFboard mAX Plus AX7800 mesh systems.
CLICK TO TWEET: The SURFboard mAX Whole Home Mesh Wi-Fi 6 system was designed for people who demand high performance from their home networks.
Nowadays, more devices are connected to smart homes (i.e., smart TVs, thermostats, security systems, doorbells, and smart assistants). A mesh Wi-Fi system needs the power and capacity to manage all these connections seamlessly. As smart home and media technology further evolves, we will see more powerful, demanding devices connecting to a home network in the future. The SURFboard mAX AX6600 is designed for people who demand high performance from their home networks, ensuring their smart homes behave… smartly.
The SURFboard mAX AX6600 system provides maximum speed, coverage and capacity so all customers' devices run at peak performance With 6,600 Mbps Wi-Fi speed capacity per unit, the two units are connected via a dedicated 4×4 multi-Gigabit Wi-FI 6 link to deliver the speeds you pay for anywhere in your home. Because it is compatible with all internet service providers, customers can eliminate dead zones (up to 5,500 square feet) using just two units.
Setup is easy, fast, and secure with the SURFboard Central mobile app, allowing customers a "digital dashboard" for home network. The app allows customers to:
Setup the home Wi-Fi network.
Check and review all the devices connected to the home network.
Set parental controls.
Optimize the home's Wi-Fi.
Set guest Wi-Fi for visitors.
So, welcome the newest member of the ARRIS SURFboard mAX whole home mesh product family to your home today.
Pricing and availability
Additional Resources
SURFboard Central app of iOS Devices
SURFboard Central app for Android Devices