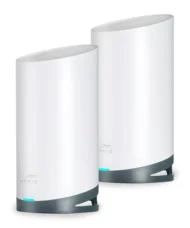 Our lives are now seamlessly connected and there is one thing holding it all together—the home network. Let's face it, every day we are connecting more devices to our home networks. No matter the device, you deserve a quality, whole-home, Wi-Fi mesh system that doesn't compromise on performance and is available at a competitive price.
The ARRIS SURFboard mAX Dash Wi-Fi 5 system provides the necessary speed, coverage, and capacity you demand from your broadband connection. It's tri-band Wi-Fi whole home mesh system ensures that your home network has the coverage and speeds needed for things like streaming, gaming, and video conferencing.
With homes becoming smarter, a whole-home mesh Wi-Fi network system is required to deliver the speeds and capacity to manage all your connections seamlessly. So, what are some of the benefits to adding the ARRIS SURFboard mAX Dash system to your home?
CLICK TO TWEET: CommScope's Ronen Stern explains why the SURFboard mAX Dash provides best in class speed, coverage, capacity, and value for connecting all your devices.
Improved Speed
With Wi-Fi speeds of up to 3,800 Mbps per unit, the ARRIS SURFboard mAX Dash mesh Wi-Fi 5 system gives you the most from your 600+Mbps service plan. You can enjoy simultaneous streaming and gaming at top speeds, seamlessly. This means no more buffering, slowdowns, or lag.
Improved coverage
The ARRIS SURFboard mAX Dash system provides Wi-Fi coverage up to 5,500 square feet in your house. This means no more dead spots or slow zones in your home.
Capacity
With 11 Wi-Fi streams per unit (22 total streams using both units), the SURFboard mAX Dash system gives you the capacity to easily support simultaneous HD and 4K video streams, VR, and online gaming – all at once.
Dedicated backhaul band
The ARRIS SURFboard mAX Dash system's high-power tri-band radios create three express lanes —including a dedicated backhaul band and separate lanes—for connecting 2.4GHz and 5GHz devices. This allows you to stream, game, and work at top speeds without lag or buffering.
What's even better is that set up of the SURFboard mAX DASH is fast, easy, and secure using the SURFboard Central mobile app. The app provides you with a "digital dashboard" for your home network, allowing you to:
Setup your home Wi-Fi network.
Check and review all the devices connected to your network.
Set parental controls.
Optimize your home's Wi-Fi.
Set guest network Wi-Fi for visitors.
Pricing and availability
SURFboard mAX Dash dual unit $299 MSRP
Available on Amazon